TAIWAN TWINE AND ROPE CO., LTD. est s'efforcer de fabricant, fournisseur et exportateur le meilleur plus haute qualité dans
Nylon Monofilament Cordon D'émerillons
et garantie nous fera tout son possible pour répondre aux besoins de nos clients dans Taiwan. Lorsque l'on compare nos produits à un concurrent, vous verrez une différence significative dans la qualité. Notre vaste sélection d'ingrédients et de produits vous donne la chance de choisir un prix pour tous les budgets. Nous nous félicitons sincèrement enquête de partout dans le monde et de créer des opportunités d'affaires illimitées pour l'autre.
Notre
Nylon Monofilament Cordon D'émerillons
produits mesures rigoureuses de contr le de qualité de fils. Une équipe d'examinateurs de la qualité permet de s'assurer que seuls les produits sont expédiés sans faille pour les locaux des clients. Bienvenue à nous contacter si vous êtes intéressé par nos produits.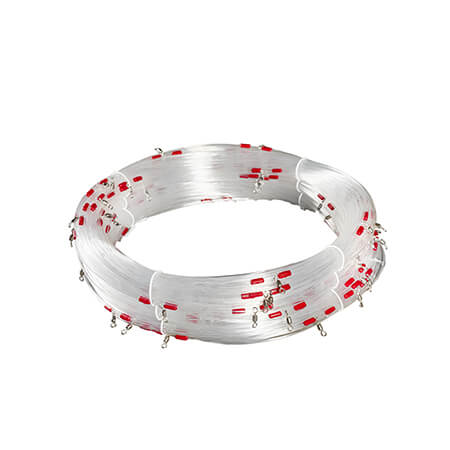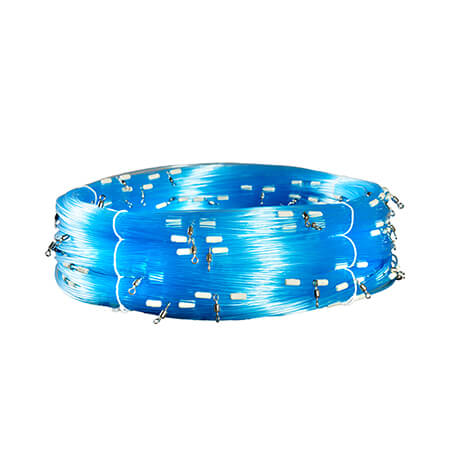 Nylon Monofilament Cordon D'émerillons
Modèle - NM-SWL
Matériel pour ligne principale:Ligne de pêche en nylon monofilament
Diamètres:1.2 mm,1.3 mm,1.4 mm,1.6 mm,1.8 mm,2.0 mm,2.25 mm,2.5 mm,3.0 mm
Construction:Bouchons en plastique moulé résistant aux intempéries avec technologie de jonction exclusive
Bouchons liés qui retiennent jusqu'à 100 kgf de force de traction.
L'acier inoxydable pivote pour une durabilité à long terme.
Hautement personnalisable sur le maquillage.
Options de couleur pour les lignes mono et les bouchons disponibles.
Origine:Taïwan
La ligne pivotante est un pré-ligne principale bouchée,avec émerillons réglés à intervalles fixes selon la demande.Les bouchons traditionnels sur une ligne pivotante avec une ligne de monofilament en nylon sont fabriqués avec de la ficelle blessée collée à la ligne principale,ou avec manchons métalliques serrés comme bouchons.Bien que ceux-ci soient largement utilisés,la durabilité et la cohérence de ces bouchons fabriqués manuellement ont été un problème.Notre ligne pivotante est développée pour résoudre ce problème.Avec notre technologie innovante de jointure de butée,les bouchons en plastique moulé sont liés à la ligne principale mono en nylon par semi-processus automatique avec force uniforme,pour assurer une liaison cohérente sans compromettre la résistance de la ligne.Les bouchons en plastique collé peuvent supporter jusqu'à 100 kgf de force de traction.Combiné avec une résistance exceptionnelle,haute transparence, &bonne résistance à l'abrasion de notre gamme mono nylon,notre ligne pivotante est la solution parfaite pour le fond&ampli;pêche à la palangre côtière.Pour ceux qui préfèrent utiliser des boutons-pression plutôt que des émerillons,nous pouvons également proposer la ligne avec des bouchons uniquement.
Diamètre de ligne disponible à partir de 1.2 mm jusqu'à 3.0 mm,notre ligne pivotante est très polyvalente avec un type de pivot personnalisable,distance entre pivots,pas de bouchon&ampli;longueur définie.Venez discuter avec nous de vos besoins et nous construirons sur mesure votre propre ligne pivotante.
TAIWAN TWINE AND ROPE CO., LTD.
NM-SWL
none
999999999
http://schema.org/InStock
USD
2020-12-31
https://www.longlinesfishing.com/fr/swivel-line-with-nylon-monofilament-line-3.html
TAIWAN TWINE AND ROPE CO., LTD.
90
out of
100
based on
100
user ratings
Enquiry Now
Produits Liste