Poiché il nostro stabilimento, abbiamo sviluppato da una piccola impresa in un gruppo globale, integrando produttori, fornitori ed esportatore di
Swivel Line Fishing
. Siamo sicuri che i nostri prodotti di alta qualità e servizi eccellenti saranno apprezzati dalla crescente lista di clienti soddisfatti.
Contattaci
è il primo passo per costruire un rapporto di lunga e di successo affari con noi.
Tutto il personale servirà i vecchi e nuovi clienti con la migliore
Swivel Line Fishing
e il miglior servizio. La vostra soddisfazione è la nostra soddisfazione, accogliamo e apprezziamo il vostro suggerimento e feedback su come possiamo servire meglio. In attesa di avere buoni rapporti con voi presto!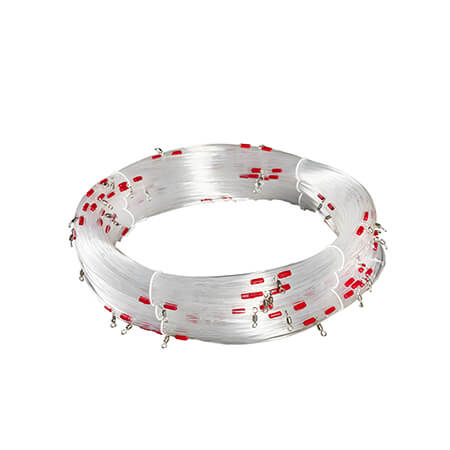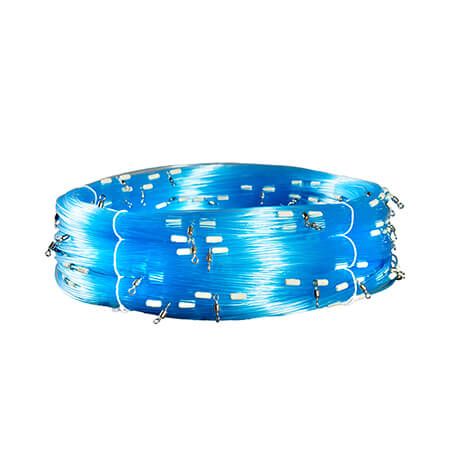 Swivel Line Fishing
Modello - NM-SWL
Materiale per linea principale:Canna da pesca monofilamento in nylon
diametri:1.2 millimetri,1.3 millimetri,1.4 millimetri,1.6 millimetri,1.8 millimetri,2.0 millimetri,2.25 millimetri,2.5 millimetri,3.0 millimetri
Costruzione:Tappi in plastica stampata resistenti alle intemperie con tecnologia di giunzione proprietaria
Tappi incollati che trattengono una forza di trazione fino a 100 kgf.
Girelle in acciaio inossidabile per una lunga durata.
Altamente personalizzabile sul set trucco.
Disponibili opzioni di colore per linee mono e tappi.
Origine:Taiwan
La linea girevole è un pre-linea principale chiusa,con girelle impostate a intervalli fissi a richiesta.I tappi tradizionali su una linea girevole con monofilamento di nylon sono realizzati con spago ferito incollato alla linea principale,o con manicotti metallici bloccati come tappi.Mentre questi sono ampiamente utilizzati,la durata e la coerenza di questi tappi realizzati manualmente è stata un problema.La nostra linea girevole è stata sviluppata per risolvere questo problema.Con la nostra innovativa tecnologia di giunzione dei tappi,i tappi in plastica stampata sono uniti alla linea principale mono in nylon per semi-processo automatico con forza uniforme,per garantire un legame coerente senza compromettere la forza della linea.I tappi di plastica incollati possono resistere a una forza di trazione fino a 100 kgf.Combinato con una forza eccezionale,alta trasparenza, &buona resistenza all'abrasione della nostra linea mono in nylon,la nostra linea girevole è la soluzione perfetta per il fondo&pesca con palangari costieri.Per coloro che preferiscono utilizzare gli snap anziché i girelle,possiamo anche offrire la linea solo con tappi.
Diametro della linea disponibile da 1.2mm fino a 3.0 millimetri,la nostra linea girevole è altamente versatile con tipo girevole personalizzabile,distanza tra girelle,passo del tappo&impostare la lunghezza.Vieni a discutere con noi con le tue esigenze e costruiremo su misura la tua linea girevole personale.
TAIWAN TWINE AND ROPE CO., LTD.
NM-SWL
none
999999999
http://schema.org/InStock
USD
2020-12-31
https://www.longlinesfishing.com/it/swivel-line-with-nylon-monofilament-line-3.html
TAIWAN TWINE AND ROPE CO., LTD.
90
out of
100
based on
100
user ratings
Enquiry Now
Prodotti lista