TAIWAN TWINE AND ROPE CO., LTD. based manufacturer, supplier and exporter of high quality
Swivel Line With Nylon Monofilament Line
. We are an export-oriented enterprise which integrates design, development, production and service. We sincerely welcome all friends home and abroad to contact us,either by establishing business relationships or to work together to obtain mutual benefits.
our
Swivel Line With Nylon Monofilament Line
have been widely accepted by customers from all over the world. Guarantee to our customers the best level of service offering capability, punctuality and quality bring lots of praise from our clients and win international markets.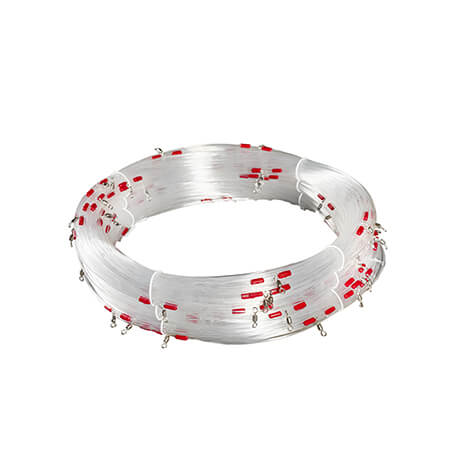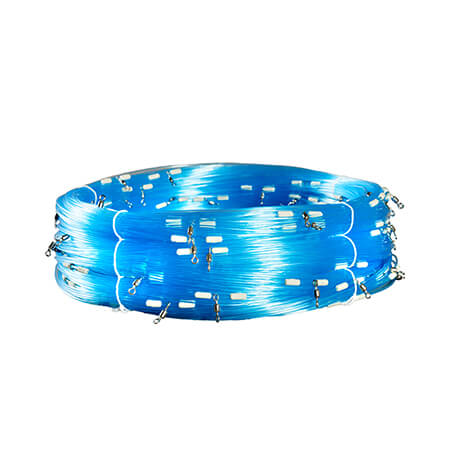 Swivel Line With Nylon Monofilament Line
Model - NM-SWL
Material for main line: Nylon monofilament fishing line
Diameters: 1.2mm, 1.3mm, 1.4mm, 1.6mm, 1.8mm, 2.0mm, 2.25mm, 2.5mm, 3.0mm
Construction: Weatherproof molded plastic stoppers with proprietary jointing technology
Bonded stoppers that withhold up to 100kgf pulling force.
Stainless steel swivels for long term durability.
Highly Customizable on set make up.
Color options for mono lines and stoppers available.
Origin: Taiwan
Swivel line is a pre-stoppered main line, with swivels set at fixed intervals by demand. Traditional stoppers on a swivel line with nylon monofilament line is made with wounded twine glued to main line, or with clamped metal sleeves as stoppers. While these are widely used, the durability and consistency of these manually made stoppers has been an issue. Our swivel line is developed to solve this issue. With our innovative stopper jointing technology, molded plastic stoppers are bonded to nylon mono main line by semi-automatic process with uniformed force, to ensure a consistent bond without compromising line strength. The bonded plastic stoppers can withstand up to 100kgf pulling force. Combined with outstanding strength, high transparency, & good abrasion resistance of our nylon mono line, our swivel line is the perfect solution for bottom & coastal longline fishing. For those preferring to use snaps instead of swivels, we can also offer the line with stoppers only.
Line diameter available from 1.2mm up to 3.0mm, our swivel line is highly versatile with customizable swivel type, distance between swivels, stopper pitch & set length. Come and discuss with us with your requirement and we will custom build your very own swivel line.
TAIWAN TWINE AND ROPE CO., LTD.
NM-SWL
none
999999999
http://schema.org/InStock
USD
2020-12-31
https://www.longlinesfishing.com/swivel-line-with-nylon-monofilament-line.html
TAIWAN TWINE AND ROPE CO., LTD.
90
out of
100
based on
100
user ratings
Enquiry Now
Products List