TAIWAN TWINE AND ROPE CO., LTD., Fabrikant en leverancier die gespecialiseerd is in de ontwikkeling van
Draaibare lijn met nylon monofilamentlijn
. Na ophopen in de jaren van intensief onderzoek, hebben we erkend als de grootste en meest gerenommeerde fabrikant in Taiwan. Vanwege de hoge kwaliteit en concurrerende prijs, zijn onze producten geëxporteerd naar meer dan 20 landen over de hele wereld. Als u op zoek bent naar een betrouwbare partner, kan u op ons rekenen. Wij hopen van harte dat we een kans om samen met u in de nabije toekomst kan hebben.
We zijn toegewijd aan het doel van "Stabiele kwaliteit, positief product R & D, eerlijke en snelle service" voor de meest perfecte faciliteit aan klanten van
Draaibare lijn met nylon monofilamentlijn
. Verwacht patronage uit alle branches, uw tevredenheid is onze motivatie om toekomst voor eeuwige zaken.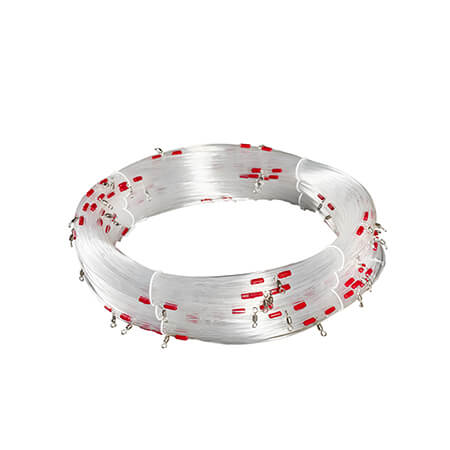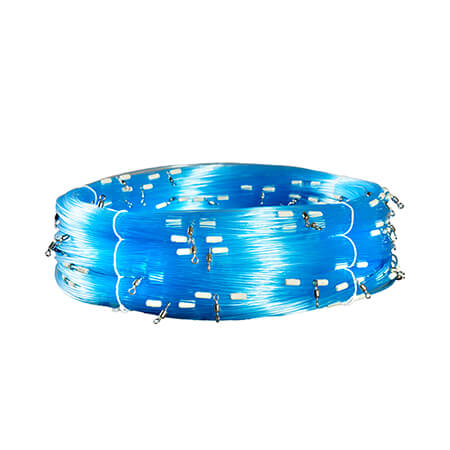 Draaibare lijn met nylon monofilamentlijn
Model - NM-SWL
Materiaal voor hoofdlijn:Nylon monofilament vislijn
diameters:1.2mm,1.3mm,1.4mm,1.6mm,1.8mm,2.0mm,2.25mm,2.5mm,3.0mm
Bouw:Weerbestendige gegoten kunststof stoppen met gepatenteerde verbindingstechnologie
Verbonden stoppers die tot 100kgf trekkracht tegenhouden.
Roestvrijstalen wartels voor duurzaamheid op lange termijn.
Zeer aanpasbaar op set make-up.
Kleuropties voor monolijnen en stoppers beschikbaar.
Oorsprong:Taiwan
Draaibare lijn is een pre-afgesloten hoofdlijn,met wartels ingesteld op vaste intervallen door de vraag.Traditionele stoppers op een draaibare lijn met nylon monofilament lijn zijn gemaakt met gewonden touw gelijmd aan hoofdlijn,of met geklemde metalen hulzen als stoppers.Terwijl deze op grote schaal worden gebruikt,de duurzaamheid en consistentie van deze handmatig gemaakte stoppers is een probleem geweest.Onze draai-lijn is ontwikkeld om dit probleem op te lossen.Met onze innovatieve stopverbindingstechnologie,gegoten plastic stoppers zijn semi-gebonden aan nylon mono hoofdlijn-automatisch proces met geüniformeerde kracht,om een consistente binding te garanderen zonder de lijnsterkte in gevaar te brengen.De gebonden kunststof stoppen zijn bestand tegen een trekkracht van 100 kgf.Gecombineerd met uitstekende sterkte,hoge transparantie, &goede slijtvastheid van onze nylon monolijn,onze draai-lijn is de perfecte oplossing voor de bodem&vissen langs de kust.Voor degenen die liever snaps gebruiken in plaats van wartels,we kunnen de lijn ook alleen met stoppers aanbieden.
Lijndiameter beschikbaar vanaf 1.2 mm tot 3.0mm,onze draai-lijn is zeer veelzijdig met aanpasbaar draai-type,afstand tussen wartels,stopper toonhoogte&lengte instellen.Kom en bespreek met ons met uw vereiste en wij zullen uw eigen draaibare lijn op maat bouwen.
TAIWAN TWINE AND ROPE CO., LTD.
NM-SWL
none
999999999
http://schema.org/InStock
USD
2020-12-31
https://www.longlinesfishing.com/nl/swivel-line-with-nylon-monofilament-line-1.html
TAIWAN TWINE AND ROPE CO., LTD.
90
out of
100
based on
100
user ratings
Enquiry Now
Producten Lijst