TAIWAN TWINE AND ROPE CO., LTD. ist der Hersteller, Lieferant und Exporteur von
Schwenkbare Angelschnur
. Wir haben Management-Center und Kulturtheorie Gruppen und Technologie-Backbone fortgeschritten. Mit langjähriger Erfahrung in der Produktion und Forschungstechniken in diesem Bereich, wir haben Fach Merchandising & Quality Control Division durch die wir die Qualität der Produktion zu steuern, wie pro Standard-Clients. Wir können eine sehr vertrauenswürdigen Exporteure, Hersteller und Lieferanten.
Alle Mitarbeiter werden die alten und neuen Kunden mit besten dienen
Schwenkbare Angelschnur
und den besten Service. Sie sind auch herzlich eingeladen, Kommentare an Unterstützung in der gleichen Zeit sind.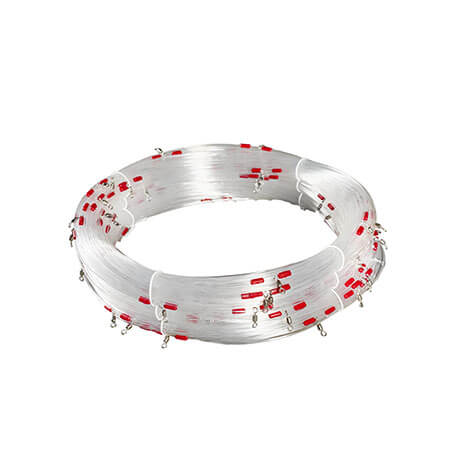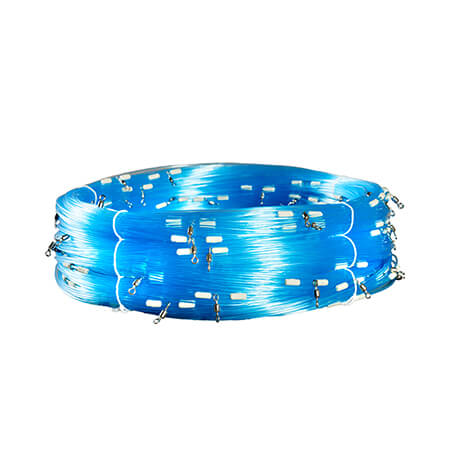 Schwenkbare Angelschnur
Modell - NM-SWL
Material für Hauptleitung:Angelschnur aus Nylon-Monofilament
Durchmesser:1.2mm,1.3mm,1.4mm,1.6mm,1.8mm,2.0mm,2.25mm,2.5mm,3.0mm
Konstruktion:Wetterfeste geformte Kunststoffstopfen mit proprietärer Verbindungstechnologie
Verklebte Stopper, die eine Zugkraft von bis zu 100 kgf zurückhalten.
Edelstahlwirbel für Langzeitbeständigkeit.
Sehr anpassbar am Set Make-up.
Farboptionen für Monolinien und Stopper verfügbar.
Ursprung:Taiwan
Schwenklinie ist ein Pre-verstopfte Hauptleitung,mit nach Bedarf in festen Abständen eingestellten Wirbeln.Herkömmliche Stopper an einer Wirbellinie mit Nylon-Monofilamentschnur bestehen aus verwundetem Garn, das an die Hauptschnur geklebt ist,oder mit geklemmten Metallhülsen als Stopper.Während diese weit verbreitet sind,Die Haltbarkeit und Konsistenz dieser manuell hergestellten Stopfen war ein Problem.Unsere Schwenklinie wurde entwickelt, um dieses Problem zu lösen.Mit unserer innovativen Stopperverbindungstechnologie,Geformte Kunststoffstopfen werden durch Semi mit der Nylon-Mono-Hauptleitung verbunden-automatischer Prozess mit uniformierter Kraft,um eine gleichmäßige Verbindung zu gewährleisten, ohne die Linienstärke zu beeinträchtigen.Die geklebten Kunststoffstopfen können einer Zugkraft von bis zu 100 kgf standhalten.Kombiniert mit herausragender Stärke,hohe Transparenz, &Gute Abriebfestigkeit unserer Nylon-Monolinie,Unsere Wirbellinie ist die perfekte Lösung für den Boden&Ampere;Küsten Langleinenfischen.Für diejenigen, die lieber Druckknöpfe als Wirbel verwenden,Wir können die Linie auch nur mit Stoppern anbieten.
Leitungsdurchmesser verfügbar ab 1.2mm bis 3.0mm,Unsere Schwenklinie ist sehr vielseitig mit anpassbarem Schwenktyp,Abstand zwischen den Wirbeln,Stopper Pitch&Ampere;Länge einstellen.Kommen Sie und besprechen Sie mit uns Ihre Anforderungen, und wir bauen Ihre eigene Schwenklinie nach Maß.
TAIWAN TWINE AND ROPE CO., LTD.
NM-SWL
none
999999999
http://schema.org/InStock
USD
2020-12-31
https://www.longlinesfishing.com/de/swivel-line-with-nylon-monofilament-line-5.html
TAIWAN TWINE AND ROPE CO., LTD.
90
out of
100
based on
100
user ratings
Enquiry Now
Produkte Liste